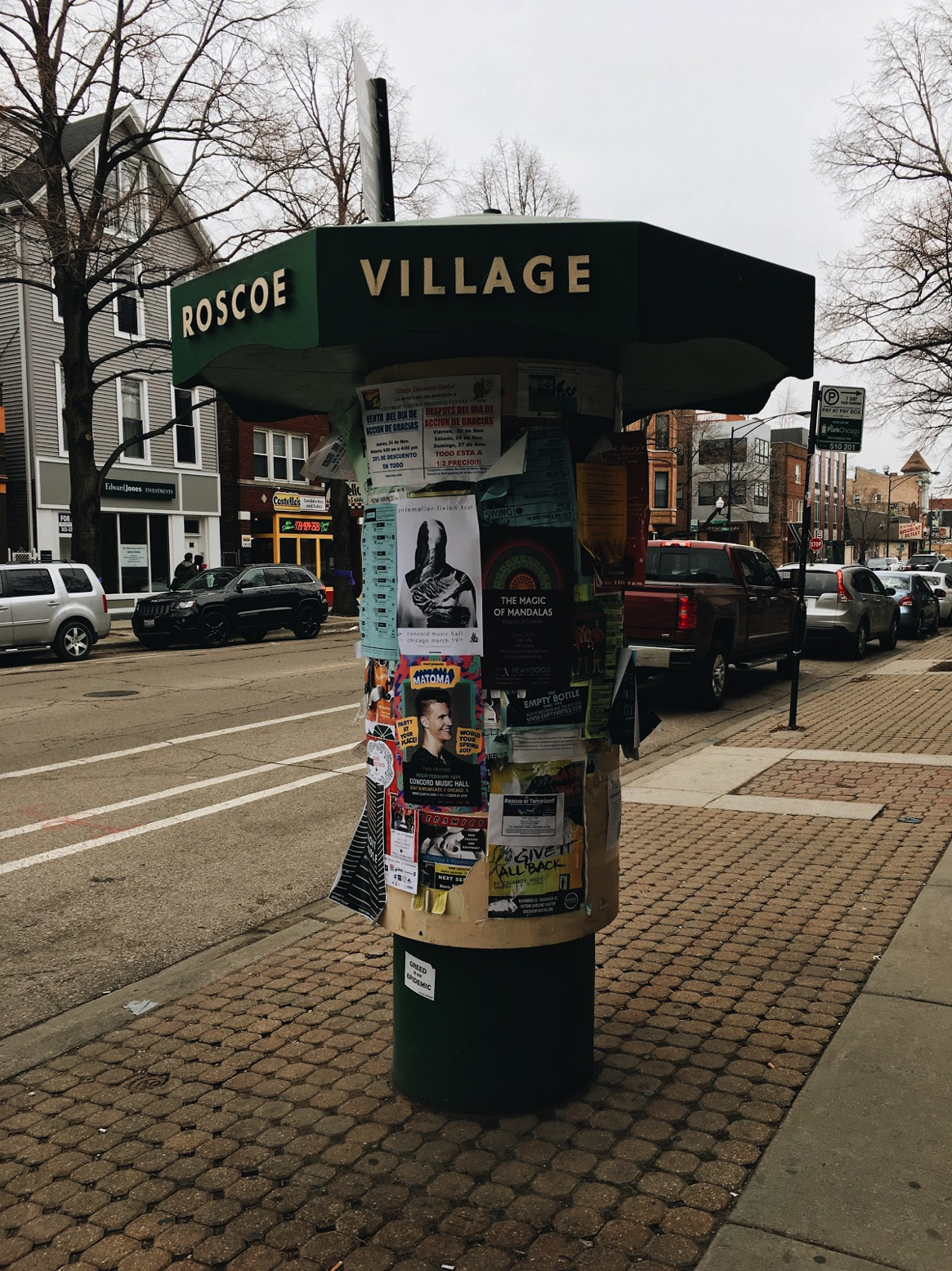 Tucked away in the northwest side of Chicago, Roscoe Village lies at the intersection of quaint family town and potential hipster hotspot. Less than an hour away by the UP-N line on the Metra and the CTA bus #50 from Evanston, this neighborhood, lined with cozy eateries and tiny boutiques, makes for a the perfect weekend excursion.
HERO Roscoe Roastery
2111 W Roscoe St.
Mon-Fri 7 a.m. – 5 p.m.
Sat-Sun 7 a.m. – 4 p.m.
HERO Roscoe Roastery is the first place to hit up if you're seeking ~trendy coffee shop vibes~ (in other words, a kick-ass Insta). Their menu is full of both caffeinated classics as well as exciting twists on ordinary drinks (the lavender hot chocolate immediately caught my eye). An assortment of bagels and sandwiches are offered as well, with choices ranging from a lox and avocado combination to the infamous "Manhattan" style – ham, bacon, egg with cheddar and cream cheese on a bagel. The calming playlist of indie pop sets the tone for a productive study session. And the free wifi, listed front and center on the blackboard inside, makes getting lost in your laptop on a chilly winter day just that much easier.
John's Place
2132 W Roscoe St
Lunch
Tues-Thurs 11 a.m. – 3 p.m.
Fri 11 a.m. – 5 p.m.
Dinner
Sun-Thurs 5 – 9 p.m.
Friday-Sat 5 –11 p.m.
Weekend Brunch
Saturday-Sunday 8am-3pm
Who can say no to brunch? John's Place is as adorable on the inside as it is from the outside, with wooden tables, vibrant artwork and '70s soul music grooving in the background. And the food is just as irresistible as the ambience. Everything on the menu appears to be homemade, from the granola to the guacamole and tortilla chips. Whether you want something sweet, like gooey "silly good donuts" doused in glaze, or savory, like the "house speciality fish tacos," John's Place will satisfy your cravings.
Village Discount Outlet
2043 W Roscoe St
Mon-Sat 9 a.m. – 9 p.m.
Sunday 10 a.m. – 6 p.m.
http://villagediscountoutlet.com
If you're seeking an indoor adventure, stop by the Village Discount Store. This thrift shop is two floors, and packed nearly wall-to-wall with unbelievably cheap secondhand goods. You can find anything from unique home decor to an endless selection of cardigans in the store. Village discount is the perfect spot or browsing wallet-friendly outfits (maybe something for those themed frat parties?), and also just having a blast with friends, hunting for gems among the infinite racks of clothing.
Gratitude-Heart-Garden Florist
2058 W Roscoe St
Tues-Sat 10 a.m. – 5 p.m.
http://gratitudeheartgarden.com
This store had to be my favorite, and I'll admit, it's probably because of the owner's absurdly cute and cuddly dog. But what originally drew me into the Gratitude-Heart-Garden Florist was the captivating display of succulents — anyone else digging the potted plant trend?). But these elements are only the beginning of what makes this shop so beautiful. The shelves are filled with intricate glass displays, containing anything from flowers to live fish. Whether you're an avid botanist, or simply want to play with a sweet dog, this store should be a mandatory stop.
Richard Clark Park
3400 N Rockwell St
Everyday 6 a.m. – 11 p.m.
If you're willing to take a 15 minute trek west, Richard Clark Park is worth the walk. Even in the winter, with barren trees and below freezing temperatures, I couldn't help but bask in the tranquility. Besides a walking trail, the park also offers an impressive boathouse along the river that I can imagine would be perfect to explore during the spring. And as long as you don't mind a bit of bird poop, the river dock is the ideal place to snap some pictures.
Starbucks
2023 W Roscoe St
Mon-Sat 5:30 a.m. – 9 p.m.
Sun 6 a.m. – 9 p.m.
Now, I know Starbucks is not unique to Roscoe Village. But this isn't your basic chain coffee shop. Instead, this is a Starbucks Reserve. If you're like me and have never heard of it before, it simply means the store also offers fancy rare beverages, most of which I can't pronounce (such as the featured espresso, Ethiopia yirgacheffe chelelektu, a coffee straight from Africa with hints of jasmine, honey and various fruits). So, if you're a Starbucks junkie, this is your chance to try something new — and get a special black cup. The atmosphere is also like no other – brick walls, a fireplace and even a random British-style telephone booth makes you feel as if you've stepped out of Chicago and into a movie.
Whether you're looking for a new spot to hit the books before an exam, or simply a place to waste a few hours window shopping with friends, Roscoe Village provides the perfect escape from campus life. Pick a day and go explore – who knows what adventure you'll find along the sidewalks of Roscoe Street?