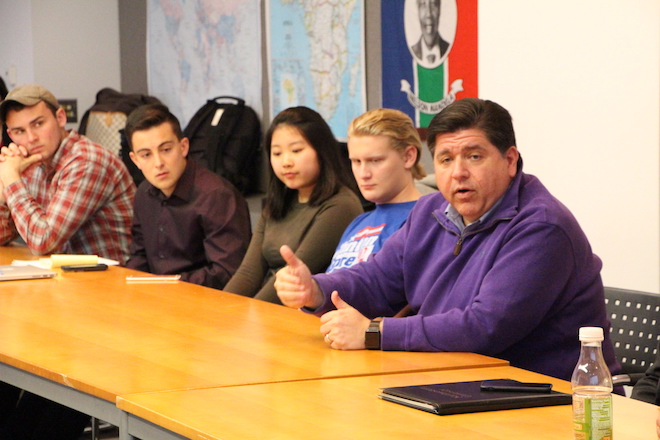 On Tuesday evening, Northwestern's College Democrats hosted an open discussion with alumnus Jay Robert (JB) Pritzker (JD '93), who studied at Northwestern's law school, now named Pritzker School of Law after his family. Pritzker is seeking the Democratic nomination to run for governor of Illinois in the 2018 gubernatorial election.
Pritzker opened the talk with his personal background in politics, from being a College Democrat when he attended Duke University, to his experience running for Congress in 1998.
Much of his introduction focused on the tangible impact he has made to the Illinois community, largely after losing the race for Congress. "The best way I could serve the public was in some other capacity, not running for public office, but rather organizing to accomplish big things that affect people's lives in a positive way," Pritzker said.
Some of these "big things" were helping to organize the "No Kid Hungry" program within Illinois' public school districts and establishing the Illinois Holocaust Museum in Skokie. Coming from a line of Ukrainian Jews, the project pulled from his background, but also connected with his personal values. "It's where kids learn to fight bigotry and hatred and intolerance," Pritzker said. "We teach kids to become upstanders and not bystanders against hate when they see it."
He had some strong opinions about his current competition, Republican Governor Bruce Rauner, and his time in office. "Bruce Rauner has failed as governor," Pritzker said.
Rauner's inability to provide a balanced budget for Illinois was top of the list of failures Pritzker touched upon. Typing the issue back to the students in the audience, Pritzker pointed out how the lack of a budget puts education initiatives, like Illinois' Monetary Award Program (MAP) grants that help many students afford college, at risk of being defunded.
Pritzker also identified Illinois' stagnant job market as a major problem that Rauner is not addressing as governor. "I think we need a governor who wakes up every day thinking about creating jobs," he said. The market for jobs is an important concern for Pritzker, evident from the fact he established 1871, a "non-profit small business incubator" that helps to produce jobs within Illinois, according to his campaign website.
Responding to student questions, Pritzker talked about everything from universal preschooling to his greatest weakness (which is wanting to "solve the big problems" without a fear of not being reelected, and not, according to him, the stereotypical "working too hard," if you were wondering).
He emphasized the role he has played in advocacy throughout his years, highlighting his work for women's rights in Illinois. Pritzker is currently active in passing House Bill 40 through the Illinois Congress, which would remove anti-choice language from Illinois abortion law and would also make abortions more accessible to lower-income women. "We live in a pro-choice state, and it's not really pro-choice if you can't afford it," he said.
No discussion of politics would be complete without addressing the current federal administration. Pritzker's stance on President Trump, before and after the election, was made clear. "There's no candidate in this [gubernatorial] race who did more to fight against Donald Trump than I did," Pritzker said. He also touched on how the Trump administration, and it's attack on fundamental democratic beliefs, largely inspired him to run for governor.
When asked about how he compares to the four other Democratic candidates, Pritzker made a point to not discuss them in detail. "The goal here is to beat Bruce Rauner," he said.
Pritzker admittedly comes from money. According to Forbes, his net worth is $3.4 billion, coming from his own entrepreneurial work and also his stake in his family's Hyatt Hotel fortune. When asked about how his financial and business connections could influence his role as governor, Pritzker emphasized his "independent" thinking and belief in a government founded on pluralism. "I will be nobody's governor, but yours," Pritzker said.
But this still left attendees with a few concerns. Medill senior Jack Corrigan said, "My one concern is that I see a lot of potential areas where JB Pritzker may be able to exercise a little more power than a governor should."
Beyond the politics, Weinberg freshman and Co-President of College Democrats Alex Neumann was pleased with how the event turned out. "It got personal, where [the students] actually pressed on things they were worried about and asked about his weaknesses or connections or things that are more important."
The College Democrats aim to host discussions with all Democratic candidates for the 2018 gubernatorial election.