Disclaimer: I am not normally a vegetarian (though it has always been a goal of mine), and I lack a legitimate understanding of what foods I need to create a balanced meal without meat. After hearing mixed reviews about how easy it is to survive on a dining hall meal plan as a vegetarian, I decided to finally try vegetarianism out for myself. And hey, maybe if I enjoyed the experiment, it would become a lifestyle change.
Before I set out on my journey, I did a little background research about the vegetarian climate on campus. After speaking to a few students, the opinions on the vegetarian experience at Northwestern can be less than flattering, something I initially did not expect. Communication junior Lindsey Pape tapped out of a meal plan as soon as she could after freshman year because of the obstacles she faced. "I remember I gave all the vegetarian options a shot," Pape said. "And it just never seemed to be a good amount of protein, or it lacked vegetables that provided the right nutrients for being a vegetarian." The shortage of options in the dining hall led to consequences even beyond a bland diet: "I ended up spending a lot of extra money buying meals from Evanston, especially later in the year when I was tired of eating salads for lunch and dinner."
Weinberg freshman Anthony Kula struggled with finding foods that he enjoyed flavorwise. "I always like to make simple vegetarian meals, but half the time they don't have that stuff," Kula said. "I try and switch it up, but a lot of the times, it's just basic vegetables." But only in his second quarter on campus, Kula remains somewhat optimistic. "Honestly it's not that bad," he said. "It's just a lot of the times, you have to settle for a salad."
Armed with information from my interviews and some simple research online, I began my leafy green quest.
Day 1: Plex West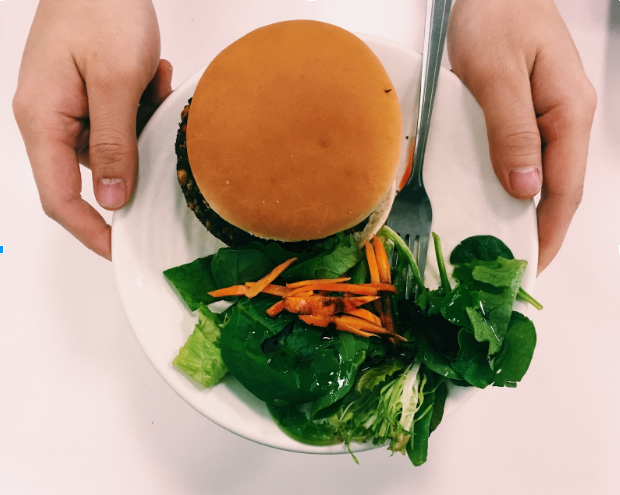 In an attempt to explore more than just a new diet, I decided to take a chance and start at Plex — though, admittedly, I wasn't too optimistic because it's a smaller dining hall. You can imagine my surprise when the first thing I saw on the menu was a black bean burger with all vegetarian ingredients. To be honest, it was pretty good at first. But after a while, it started to taste more like seasoned rice than a burger. Still, the fact that it was freshly made and crispy on the outside partly satisfied my craving. I threw a simple salad on my plate because, unfortunately, the Cajun fries are not vegetarian friendly — they're probably cooked in animal fat (seriously?!).
Day 2: Allison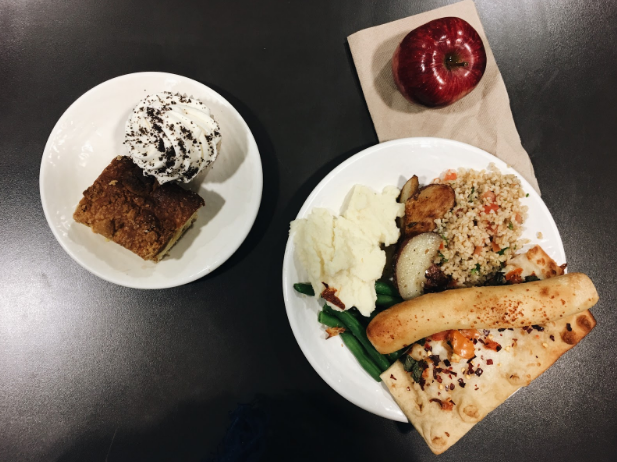 Allison is my dining hall stomping ground. As a result, I'd have to say I'm reasonably familiar with the vegetarian options, so it wasn't too much of a challenge to fill my plate. I was pleased that the mashed potatoes fit my no-meat criteria (I'm a big potato fan, as evidenced by the two types on my plate) and that there was a veggie pizza option. My favorite find, however, had to be the seasoned breadstick. It is insanely delicious and vegetarian friendly! Because I'm dessert-obsessed, I tried two items: an unforgettable cookies-and-cream cupcake and an uber-moist apple cake. To put it simply, my sweet tooth was more than satisfied. Day two's journey turned out to be pretty straightforward. My plate didn't end up looking any different than it does when I normally put meat in the mix.
Day 3: Sargent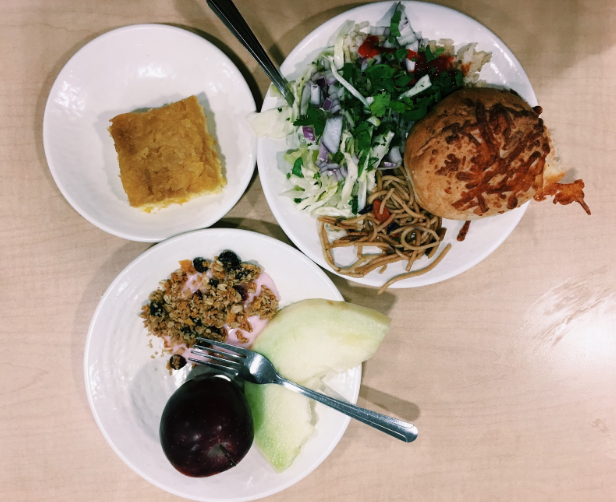 Day three, I truly ventured out of my comfort zone and made it all the way up north to try out Sargent. I hadn't been here since Wildcat Welcome, so I was once again in awe of the endless options (very helpful, considering my vegetarian limitation). My favorite items were the whole wheat roll with a cheese crust and the stir-fry noodles (I highly recommend — not too greasy!). As for dessert, I realized that pineapple upside down cake isn't my thing, but it was still refreshing to try. All in all, Sargent was just as easy, if not easier, to fill my plate with vegetarian delights. Halfway through, I was quite pleased with the results!
Day 4: Allison (yes, again)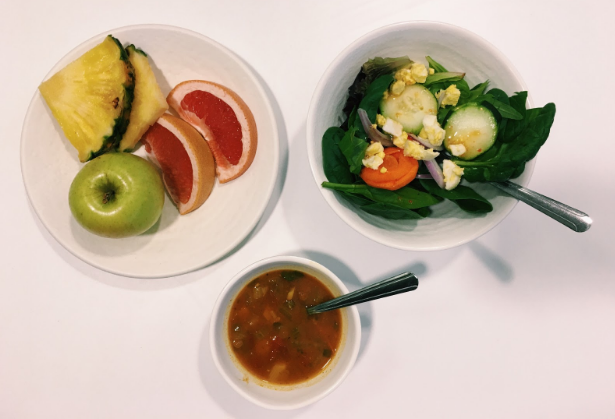 So for this meal, I set myself up for a challenge. Because of my schedule, some days I have to eat between lunch and dinner (lite lunch, aka only leftover pizza and other scraps). Once again, I overestimated the difficulty of this situation. Filling my plate (and bowl) wasn't that hard. I didn't have high hopes for the "mindful" vegetable soup, but it ended up blowing my socks off. Who knew I loved lentils that much? Given that lentils are high in both protein and fiber, they are the staple to any vegetarian diet. To me, they seem to be amazingly flavorful. The best part was the fruit selection. Because I came at an awkward time, the containers were freshly filled. Maybe going to "lite lunch" is a lifehack in general and not just for vegetarians.
Day 5: Allison (in my defense, I tried Plex but it was closed)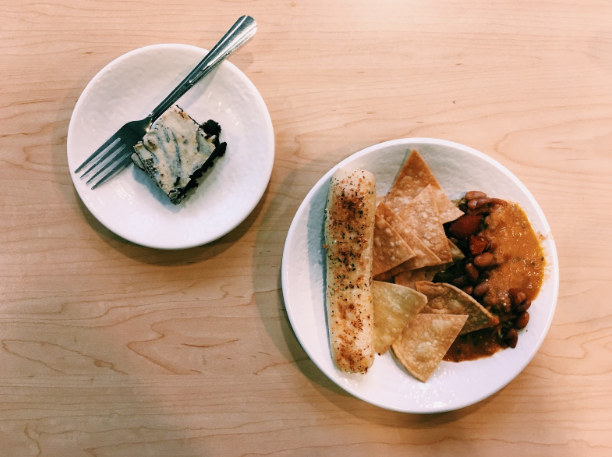 This had to be my favorite meal by far, and not just because the breadstick was heavily seasoned. I found everything on my plate (besides the brownie and breadstick) at the vegan station. The combination of the chips, chili-like bean dish and chipotle salsa just really hit the spot. And of course, I couldn't pass up dessert, even during lunch time. There was not one dish I didn't love. I would definitely choose this meal again and again, even if I'm not trying to eat vegetarian.
Now at the end of my five-day journey, I can say that eating vegetarian meals at the dining halls is easier than I expected. It requires a bit more thought and hesitation, but by the time I sat down at the table and ate my meal, I didn't even miss having meat on my plate. At the same time, I can imagine that after more than a week, the process can become monotonous and difficult, especially when you actually monitor what nutrients you need to survive (a knowledge base I just don't have). I still encourage you to take the plunge if you've ever flirted with the idea of a vegetarian diet before. Maybe for you, just like me, Northwestern will make it less of a challenge.