Tired of hearing about the upcoming presidential election? Considering defecting to a foreign country for a few blissful, election-free days?
You'd have more luck finding your nearest cave or a large hole to curl up in. (Just be sure to leave your phone at home).
While living abroad for the height of U.S. election season may appear to insulate Americans from this excruciating and somewhat embarrassing presidential race, it turns out that even an eight-hour plane ride and seven-hour time difference isn't enough to escape it. In fact, being abroad may even be worse.
On top of the articles and propaganda that fill our Facebook newsfeeds regardless of our current GPS coordinates, the U.S. election is making waves in the media and the minds of people in countries from Chile to South Korea to France. Because study abroad students serve as "ambassadors" of sorts for America, this means we've also become receptacles for foreigners' confusion and contempt regarding the race.
"I teach English to Austrian high schoolers and all they do is ask me about the election," said Keaton Tatooles, a Weinberg junior currently studying in Austria. "Everyone here is obsessed."
Especially because we are now of voting age, students abroad are perceived as being able to influence and explain the election ourselves. In reality, however, we can barely figure out the absentee ballot system, and are equally mystified about how the first election of our adulthood has manifested itself.
"I feel that a general sentiment (at least coming from my host family) is that Americans are dumb to have allowed Trump to get so far," said Mercy Yang, who's studying in Montpellier, France for the semester. "A classmate of mine noticed that some people would look to American students for an excuse for Trump."
For Kathleen Clark, a Weinberg junior living with a French host mother while she studies in Paris, the Trump campaign is a popular discussion topic during dinner.
"[My host mom] typically brings it up as a conversation starter and asks what's new with 'mon ami Trump' (jokingly) or mentions what she's heard about it that day.">
While this questioning can be overwhelming, it's not that the election has necessarily made natives think less of American students. Sometimes, they are more than willing to commiserate.
"We have a running joke that if Hillary wins next week she'll buy champagne and if Trump wins I won't leave at the end of the program in December," Clark said.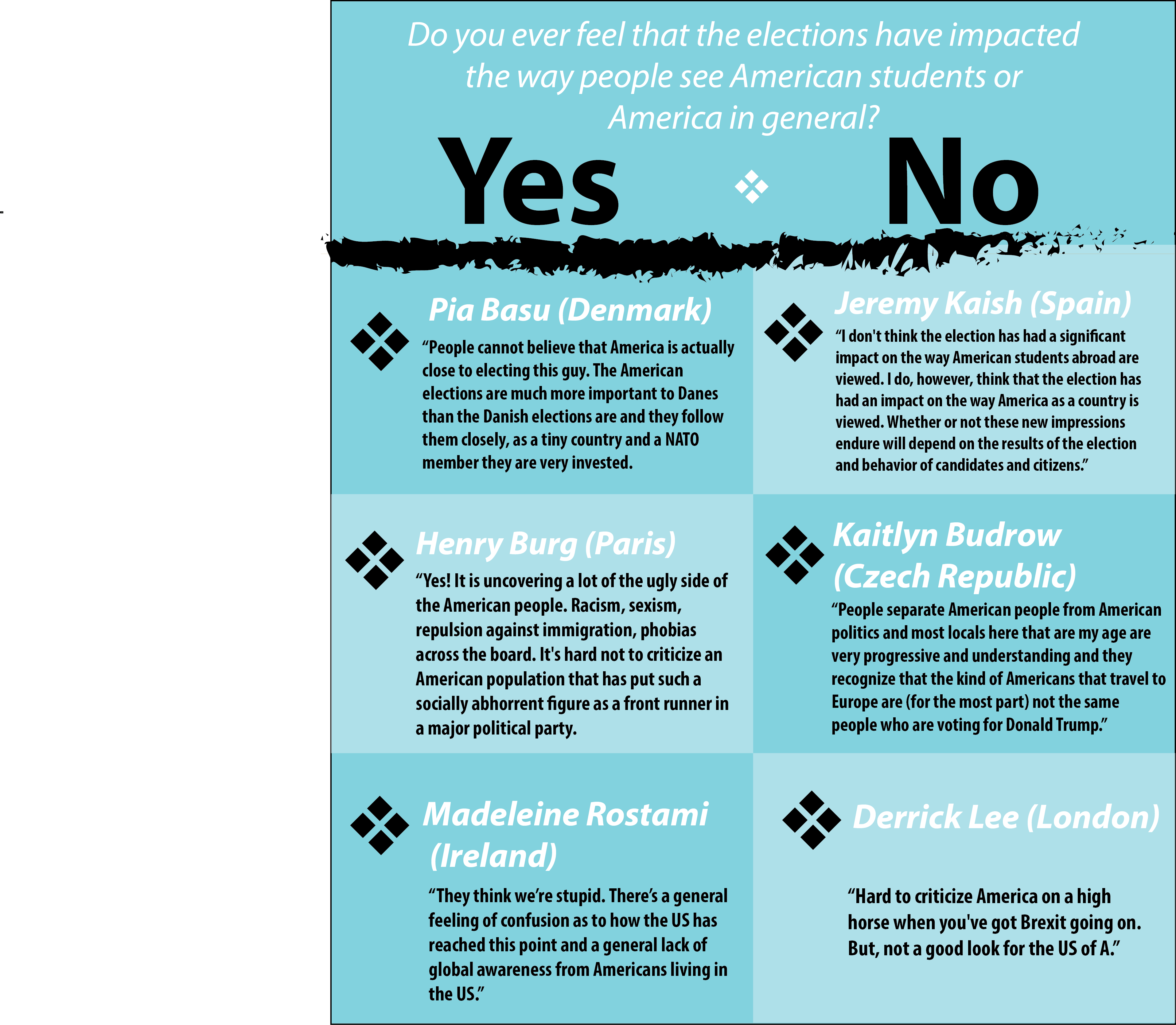 To an extent not seen during previous elections, foreigners have been able to follow the spectacle with relative ease from their smartphones, computers, and even country-specific media sources.
"[My host mom] follows the race pretty closely because the radio, news program and magazines all mention it daily at this point, so she tends to know what's currently happening about as well as I do," said Clark.
French media are not the only ones bombarding their citizens with information about the U.S. elections. When NBN informally polled Northwestern students studying abroad, more than 88 percent of respondents said that media covered the election at least a few times a week. More than half of all respondents said they could see foreign coverage of the election on a daily basis.
There's a picture of Trump on the cover of a popular magazine in Germany, footage of the candidates broadcast on the Spanish nightly news and even the opportunity to overhear soundbites from the presidential debate playing in the classroom across the hall at a French university.
"They even have a Trump and Hillary burger at this burger chain in Stellenbosch," said Emma Kupor, a Weinberg junior who's currently on a direct-exchange program South Africa. "It permeates everyday life here."
But wait, why do they care?
Why do countries so seemingly uninvolved with America devote so much media attention to the election? Many Northwestern students are learning just what the phrase "world power" means when it comes to the politics and everyday lives of people around the globe.
"What you do will directly influence us," said Torvin Jorgenson, a professor of Holocaust and Genocide Studies at the Danish Institute of Study Abroad.
"You guys go to war. I go to war, too. That's how my government works. It means a ton. Your economy goes down, my economy goes down. Your economy goes up, the likelihood that mine will, too, is higher. Anything you do has a very direct consequence for me."
The country of Jordan also feels a fair amount of American influence. However, Jordan's government is less concerned about economics than they are about their potential political relations with America's new chief diplomat, according to Matthew Guzman, a Weinberg junior studying in Amman.
"Jordan and Jordanian citizens understand very well that they are in some ways kind of an 'island of peace' in the Middle East right now and that is almost entirely because they have a great deal of U.S.-backing, both financial and political, and they know that they need to keep that," said Guzman.
How do Jordanians feel about working with the top two candidates? Many aren't #WithHer according to Guzman.
"The issue primarily is that, in the past, Hillary Clinton has supported Israel and Jordanians are very against that," Guzman said. "Even though Trump has some policies very similar to Hillary's and in many ways policies that would be detrimental to Jordan, the name Clinton still sticks with them."
Other Wildcats provided some of the international opinions they've been hearing through an informal survey:
"[Danes] think it's ridiculous that Trump has gotten this far in the election and don't understand how that happened." -Lisette Corbin, Denmark
"Similar to the way people in the States think about the elections. Gun rights, race, sexism, etc are important topics, but a lot of people think neither candidate is that great of an option. Also, most people think Trump would be apocalyptic." -Lauren Calamari, Australia
"The president of the Czech Republic, Milos Zeman, is strikingly similar to Donald Trump (racist, xenophobic, profane, shows up drunk to official events, wished death to vegetarians, etc.), so they tend to be very sympathetic. A Czech student once jokingly said to me he wants Trump to win so that the Czech Republic won't have the worst president in the world." -Kaitlyn Burdow, Czech Republic
"The general view, based on my individual experiences here, is that both candidates are unfit and unworthy of the presidency. Though, Trump is viewed much more unfavorably than Hillary largely on account of his alarming policies pertaining to the Korean peninsula which would most likely threaten the stability of the entire East Asian region." -Samuel Choi, South Korea
Pierre-Samuel Van der Borght, a second-year student at the Sciences Po University in Paris, says if he got to choose, he would pick Clinton, but the entire election is a little strange.
"This election, from our point of view, is very weird because...most of the major Republicans say they will not support [Trump's] platform because of his personal life. It's like–Hillary will be elected– but not because she has big ideas and she is the best president for the United States, but because Donald Trump cannot be elected."
Even if Trump had a spotless personal reputation, he would probably still poll poorly amongst international spectators. Many view Trump's "Make America Great Again" policies as backward, completely unacceptable, and possibly a sign of an ignorant electorate. It is important to remember, however, that America isn't the first country in recent history to flirt with extreme nationalism. Looking at you, Brexit.
"We already have quite wide experience with [nationalism] in Europe, so that's why I don't blame you for this," said Jorgensen.
"To me, it's quite a natural development, and I think it's connected to the fact that there is this group in my population and in your population that has been run over by globalization and that has lost its traditional spokesman which used to be the left, so now they go right. Nothing surprising in that."
Whether that makes this election less or more scary remains unclear.
Getting in that vote
For most Northwestern students abroad, this highly covered, controversial election is somewhat new and exciting. It's the first time they have a say in who becomes America's next president. Provided, of course, they can get their ballot in on time.
While the coverage of American politics is easy to access abroad, accessing the ballot box has been nothing short of a Herculean task for several Northwestern students.
Angelina Strohbach, a Northwestern junior studying abroad in Senegal, planned to drop off her ballot at the American embassy.
"One other student and I took the public buses, which can be nefariously inconsistent here with lots of sporadic stops for different amounts of time, so travel time took about five hours," Strohbach said.
When they arrived, they learned that they weren't allowed inside the building.
"I guess overall the process struck me as a little odd honestly," Strohbach said. "I have about 80 percent confidence that my vote will actually be counted in the end, which I guess is better than nothing."
Emma Danbury, a Northwestern junior interning with GESI in the Dominican Republic says the Northwestern students in her program are voting absentee by mail, assuming that the postal system is functioning.
"We are going to have to print it and mail it, like physically mail the ballot itself, and the mail system where we are living is kind of nonexistent," said Danbury. "Like domestically it sometimes works but it's very unreliable and internationally it's extremely unreliable."
Should that fail, she said that the students may use one of their free days to drive to the American embassy in Santo Domingo to deliver their ballots there.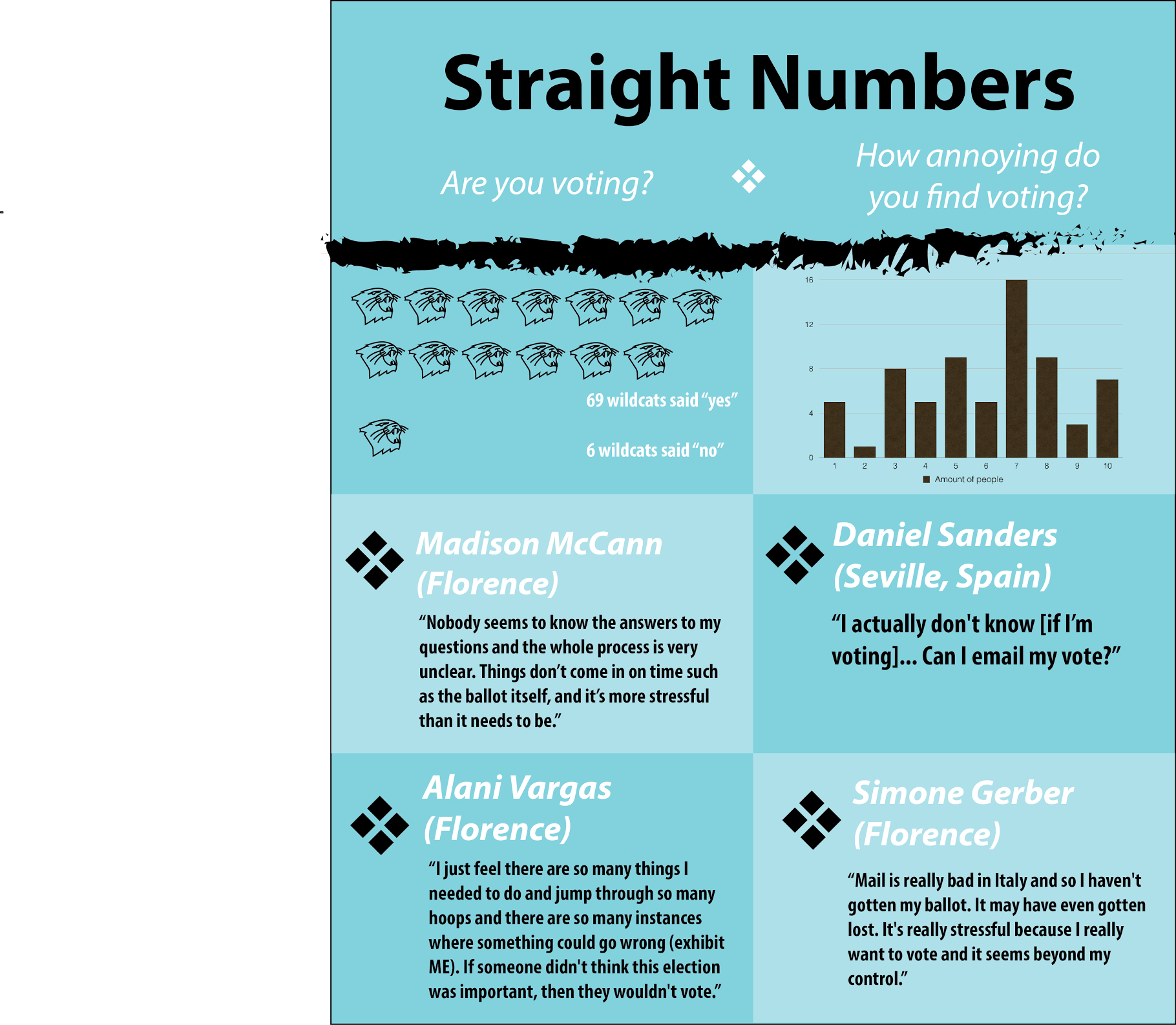 "Every vote does count, and I would be very angry at myself if I didn't vote in this election in particular because it's just so important. If everyone had the mindset of 'Oh, it's not really going to count; then no one would vote and we wouldn't really be able to select a president that's representative of everyone."
With the future of the United States, and the well-being of so many other countries on the line, making her voice heard may be more important than ever.